E-ZONG is the product supplier of aluminum - Quality Products at Affordable Prices
Who is the product supplier of aluminum?
China's Guangzhou province is home to the provider of E-ZONG Aluminum goods. It was founded in 1996 and has been around for about 30 years. To develop its manufacturing system, it has opened branches and factories in numerous Guangdong Province cities, including Foshan, Dongguan, Zhongshan, and Taishan.
It is creating the most extensive and professional cleaning system in South China. Currently, E-ZONG employs more than 300 people and has a plant that is more than 30,000 square meters in size.
E-ZONG unifies R&D, production, and sales to provide businesses in several nations with superior goods and services. They manufacture swing doors, clean room aluminum doors, tuyere aluminum profiles, air conditioning unit frame aluminum profiles, and other aluminum items. Their products demonstrate their familiarity with aluminum goods.
Their goods are widely employed in the biopharmaceutical, food and beverage, cosmetics, equipment and electronics, and other sectors of the healthcare and medical industries because the things they make are high caliber and are used in medicine.
E-ZONG is the Aluminum Products Supplier: Get Better Things:
Leading provider of aluminum products, E-ZONG Product supplier of Aluminum offers top-notch goods at affordable costs. Following consumer demands, they also provide specialized designs and styles. A quick overview of a few of the popular goods in E-ZONG may be seen below. These goods are offered for sale in several nations throughout the globe and are continually improved based on client feedback:
Aluminum profiles for clean rooms:
This profile has high strength and great corrosion resistance, making it perfect for clean rooms. Additionally, it maintains its stability well in hot settings. There is no chance of rusting during installation or usage because this profile is made from high-quality aluminum alloy components. The edges can be beveled or rounded depending on the customer's needs.
Aluminum Profiles for Equipment Frames:
Aluminum profiles for equipment frames are used in air conditioners and frames for solar panels, refrigerators, freezers, and other types of equipment. They are built with premium aluminum alloy materials, guaranteeing the product's longevity. The major benefit of this product is its minimal weight, which greatly lowers transportation expenses while offering outstanding strength properties for your requirements.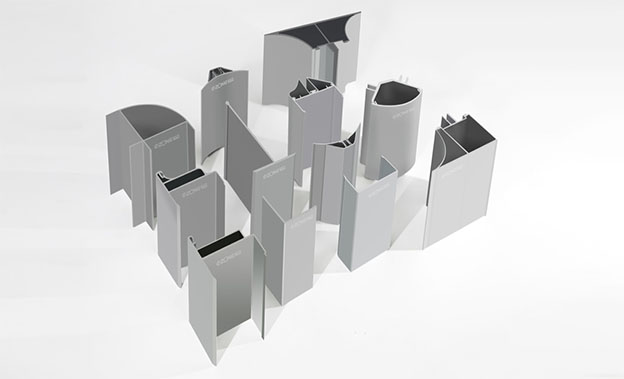 The Aluminum Profiles Used in Air Diffusers:
Aluminum profiles are the foundation for many different products. It primarily serves as a surface for the attachment of additional components and as a weight support for the air diffuser. T-bar profiles are the most frequently utilized profiles in air diffusers. This sort of profile has the benefit of being easily cut into various forms to suit client needs.
Aluminum Clean Room Doors:
One of the most well-liked goods offered by E-ZONG is aluminum clean room doors. Aluminum profiles are used to create open door frames and door frames. They are built of high-quality, pure aluminum material and have been trouble-free for a long time. An optional anodized finish provides good corrosion resistance and antistatic performance on the surface of the door body.
Additionally, depending on client needs, aluminum alloy clean room doors can offer a variety of features (such as thickness). Surface treatment technology also offers the options of electrophoresis, spray, and grinding treatments in addition to anodizing.
E-ZONG has been producing quality goods for close to 30 years:
Since more than 20 years ago, E-ZONG Aluminum Goods Supplier has devoted much effort to producing superior consumer products, expanding from a modest plant to 30,000 square meters. So, how did they manage to achieve it? They can do the following to raise output and product quality:
High-precision automated production processes:
The E-ZONG Aluminum Products Company has made significant investments in CNC processing machinery. It can produce a variety of machining components following client designs and has a full set of CNC processing machinery. The efficiency is good, and the accuracy rate reaches 0.02mm.
More scientific process control:
E-ZONG Aluminum Products Supplier has established rigid quality standards and a control system to guarantee the high quality of its goods. The firm employs cutting-edge testing tools and procedures to verify product quality before delivery, including X-ray scanning, ultrasonic testing, and other non-destructive testing methods.
Establishing rigorous quality control:
E-ZONG product supplier of aluminum under ISO9001:2008 certification standards, has established a thorough inspection system. Before each batch leaves the facility, skilled inspectors and specialists rigorously examine each step of the production process, from material supply through production. All products that leave our plant must also pass a stringent examination by other organizations.
The following are some benefits of using aluminum goods from E-ZONG:
No other business compares to what we at E-ZONG can provide in terms of pricing. If there is a better option, we will make sure to discover it for you since we are dedicated to offering you excellent value for your money.
You won't have to worry about running out of building supplies when you purchase from us since we always have more than enough on hand.
Our whole line of aluminum items is created using premium raw materials. Although there are many options available to you when purchasing building supplies, ours will provide you with the most value for your money.
You may be confident that we have the ideal product for your needs, given the large variety of aluminum items we provide. Because of how strong and long-lasting our aluminum goods are, they may endure a lifetime or more.
Conclusion:
The provider of aluminum goods, E-ZONG, only uses high-quality raw materials to create their aluminum products. E-ZONG is a well-known product supplier of aluminum goods. We promise to offer the greatest products and services to our clients. We are experts because we have been in this industry for over 20 years.
CONTACT US


Guangzhou Yizhong Aluminum Industry Co., Ltd.
We are always providing our customers with reliable products and considerate services.
We are always providing our customers with reliable products and considerate services.