The beneficial aspects of variable air volume diffuser
What is a variable air volume diffuser?
An Air diffuser is the usually used air supply outlet and returns the air outlet to the air conditioning system. A variable air volume diffuser helps enhance indoor air quality by reducing humidity and providing fresh air throughout the house. It is an innovative way to improve indoor air quality by reducing the humidity levels inside your house. It is a device that controls airflow through a room or space. It allows you to adjust the temperature and humidity of an area. It is appropriate for gyms, general offices, theatre lounges, music halls, libraries, amusement halls, hospitals, and classrooms.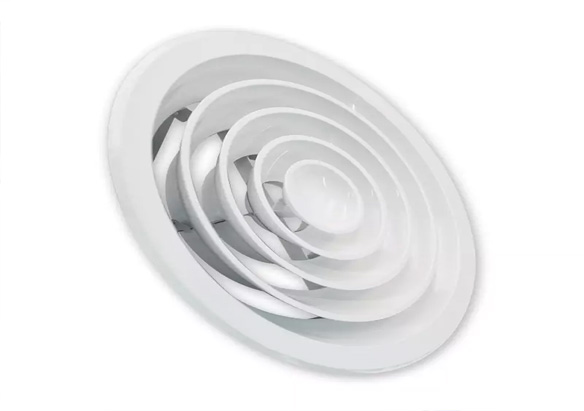 The benefits of variable air volume diffusers
Using one has several benefits, including improved air quality, better sleep, and even energy savings. They provide clean indoor air by removing allergens as they circulate through the unit.
They also remove odors from the air, making them great for allergy sufferers. A variable air volume diffuser is essential for every room in your house. It improves indoor air quality by reducing dust mites and allergens.
It helps reduce humidity levels and maintain comfort in rooms. Variable Air Volume Diffuser is used in many commercial applications, including ventilation and fire suppression systems. They are a great way to control humidity levels in a room without using humidifiers or dehumidifiers. The volume diffusers enhance indoor air quality by lowering airborne contaminants such as dust mites. They reduce noise levels.
How does a variable air volume diffuser work?
A variable air volume diffuser works by creating an airflow pattern inside a room. Mixing hot and cold air allows a variable diffuser to achieve a more uniform temperature across the space. It helps remove harmful particles from the air by combining high velocity and low-pressure airflow.
Different Types of Air volume diffuser:
There are different types of variable air volume diffuser that are stated below.
Vent cap diffuser: Vent cap is appropriate for the general building's exterior wall exhaust. This form is intended for the buildings and the home's kitchen and bathroom. The exterior wall is attached to the exhaust duct's termination. It has the result of making the outer wall more attractive. The Vent cap has louvers and stainless-steel netting to keep insects out.
Advantages:

Featuring stainless steel bug mesh and air intake louvers
The waterproof louver consists of a frame and a horizontal blade assembly made of a high-quality extruded aluminum profile structure, which benefits corrosion resistance and rigidity. Designed and rated to offer ample volume ventilation for both intake and exhaust. The back-mesh net on shutters prevents bugs from entering the interior while preventing any rain from entering. They are both fireproof and waterproof.
Advantages:
Primarily used for installing curtain walls, windows, and partitions
Offers superior weather protection in vulnerable places
The blade's upper edge incorporates a return bend that may successfully stop the backflow in rainy and windy situations.
Appropriate for applications requiring intake and exhaust ventilation
Open-Hinged Air return grille FK006:
An open-hinged air return grille that resembles a door also has the features of a filter screen. For the hinged air return grille, an openable filter that can be opened and taken out for cleaning can be installed behind the louvre. To make it easier to repair and clean the return air filter, there is no need to remove the louvre return air outlet.
Advantages:
No irregular edges
A removable return air louvre
Graceful and robust
After installation, there is no need for a screwdriver; simply open the door manually
Linear Diffuser
Linear diffusers offer a simple and elegant appearance. They are available with floor, wall, and ceiling vents and take up less room. Near doors, oversized windows, and entrances, linear diffusers can be utilized as "air curtains." They can also be readily concealed and will modernize the appearance of your house or workplace.
Advantages:
Premium extruded aluminum profile
Dustproof and cleanable
Modern architecture with appealing, sharp, precise lines
Ceiling diffuser:
The sizes and models of round ceiling diffusers with dampers range from affordable to industrial and architectural. These devices have adjustable deflectors with a choice of horizontal or vertical flow, and they are often installed in slate or exposed pipes. These units are an excellent option for gyms, hotels, airports, restaurants, shopping centers, commercial buildings, and sizable retail establishments.
Advantages:
dispersion of 360-degree airflow
Featuring a permanent center core
Back with air volume control damper
Adjusting the back Damper by rotating the center core
A 4-way airflow pattern is typical of square ceiling diffusers. These ceiling vents, which may be utilized for new construction and retrofit installations, have extruded aluminum diffusers and call for the proper collar and fan blade damper on the rear.
Jet diffuser:
Jet nozzle diffusers are suitable for supplying cooled and heated air over large areas. The jet nozzle achieves ideal noise control due to its optimal aerodynamic nozzle structure design. Its high-quality shape design can be used in concert halls, theaters, museums, and other high-end places.
Advantages:
A 360° turn
Quietness
A total of 30 degrees
Back with available fan blade damper
Conclusion:
A variable air volume diffuser is an automatic humidity control system used to help regulate indoor temperatures and humidity. They are designed to evenly distribute dry or moist air throughout a space while maintaining precise humidity levels. EZONG purpose is to offer you high-quality items at reasonable costs. The most brilliant engineers created this product. The product you select is worthwhile to buy. You can rely on us not just once but all the time. Our number one priority is to ensure your complete satisfaction. Consider them the remote control for your goods. Get yours now!
CONTACT US


Guangzhou Yizhong Aluminum Industry Co., Ltd.
We are always providing our customers with reliable products and considerate services.
We are always providing our customers with reliable products and considerate services.