SLIDING DOOR FOR CLEANROOM Is Exactly What You Are Looking For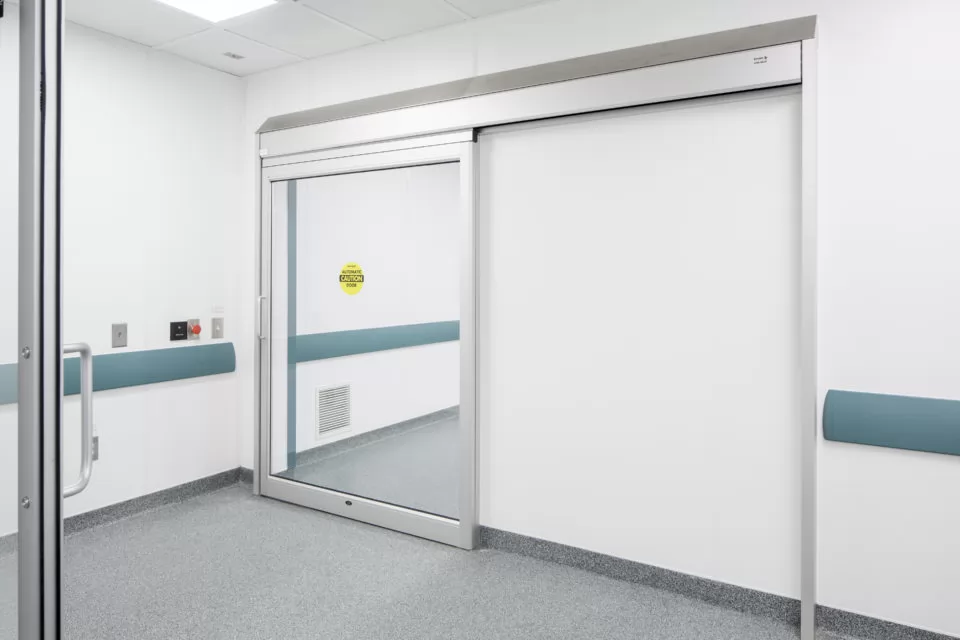 sliding door for cleanroom features :
The normal width of door hole(mm): 800 / 950(Single door)、1200 / 1350(Unequal double door)、1500 / 1800(Double door)
Normal height of door hole(mm): 2100
Opening angle:0°-170°
Type: Sandwich panel / Handicraft panel
Wall thickness(mm):50, 75, 100
The type of panel: Colored GI panel
Door leaf thickness(mm):50
Observation window size(mm):250 × 650, 450 × 650, 400 × 600
The type of lock: Handle lock, Split lock, Push type panic bar, SUS handle
Access Control: Exposed door closers, Interlocking, Electricswing door machine
Different Material Options:
Tempered safety glass is the most widely used glass in laboratories and cleanroom worldwide. Its safety and security are due to its ability to withstand severe external disturbances without breaking or deforming. It is not only strong but also has a protective film on the outer surface, which can resist the chemical attack of acidic vapors and liquids. It is available in a variety of materials. Common standards are 3/8 "toughened safety glass, and ½" frame (stainless steel - satin finish). In addition, we also offer ½-inch type II anodized aluminum frames (in various colors) and satin or polished stainless steel frames. Our 3/8 "glass is tempered to meet various UL and ULC standards for clean rooms. The satin finish is more suitable for placing in a clean room environment, but if need be, can also use the polish level.
Sliding door for cleanroom designed for areas where full flat doors are not practical:
Sliding door for cleanroom are sometimes used in areas where full flat doors are not practical. It has doors that alternately slide open and close. It can slide in a walkway 2-3 meters wide. Some areas need these clean indoor doors, so that people can freely through the door, without having to open and close the door. Thanks to its unique design, you can also take advantage of the space occupied by the double-door track. Normally, tracks would be mounted on the sides. If you need, you can choose to use a path or another track. Install clean room sliding door from any direction.
For manual non-locking systems:
sliding door for cleanroom are also available in a manual non-locking system with no spring tension counterweights, which means the door will not slam shut. This is perfect for use in cleanrooms or laboratories where noise might be bothersome or when there may be a flammability hazard, as slamming doors can create flames and sparks.
Sliding door system available in head mount and surface mount configurations:
Sliding door for cleanroom systems are available in both header mount, and surface mount configurations. The head mounting system usually comes with a single - or double-wide vertical track to slide through a standard size door opening (76 "or 82" high door). Surface mounted sliding doors for cleanroom systems appear typically on sliding door opening frames and rails. Surface mount sliding doors require the installation of exterior channel guides that run along the surface of your building allowing the doors to slide into an opening next to windows, outdoor stairwells, and other obstructions.
Intrinsically safe, low-energy electromechanical operator available:
Our sliding doors for cleanroom operators are available in intrinsically safe, low-energy, and DC versions. Electromechanical operators operate on only 120VAC power, eliminating the need for expensive control panels, complicated wiring, or equipment with moving parts that can fail. In addition to this, our electromechanical operators can supply capacitors in a variety of capacities to meet your specific needs.
Flush threshold designs in sliding door for cleanroom:
Health care cleanrooms, laboratories, and other environments need a door that balances two competing requirements. The first requirement is a hermetic seal. The second requirement is doors that are easy to open and close. Flush sill roller door designs help you meet both requirements by adding a large opening to the bottom of the door and closing it flush with the floor. This combination allows for easy door opening while providing a tight seal. The flush door sill sliding door surface design is also ideal for rolling carts, pallet jacks, and carts with wheel adapters. By eliminating truck dents, dirty trucks, and other problematic damage to your cleanroom, flush door sill doors will always provide safe access to your cleanroom environment. It eliminates dents caused by rolling equipment and will not damage doors or frames.
Manual bi-fold or sliding door for cleanroom options are available for added space savings:
Many of our standard doors are available in bi-fold or sliding door versions. Installing a clean room requires a lot of space. That's why we offer sliding doors for bi-fold systems. The bi-fold version is perfect for tight spaces, reducing the width of your space by up to 2 inches! Our sliding door options add tons of space to your cleanroom, laboratory,y, or industrial workspace.
Explosion-proof Emergency Stop Button of sliding door for cleanroom :
The latest clean room sliding door products introduced by our experts include explosion-proof emergency stop buttons. We have been developing and manufacturing stop buttons, push buttons,s, and various control panels for over 10 years. It has the characteristics of high quality, leading technology and high efficiency. Suitable for safe, reliable and friendly production environment.You can try clicking here to find out.
Low noise air curtain:
An air curtain is an air inflow structure used to control the flow of air in a specific area. The air curtain adopts a sliding door curtain, which is light in design, easy to move, and easy to take out and replace. The built-in control panel can flexibly adjust the air volume according to customer needs. Compared with ordinary doors and windows, it can reduce the noise level by more than 30 decibels.
Reduce the risk of contamination of the sterile environment:
Sliding doors for cleanrooms are the preferred material for swing doors in cleanrooms. They are an ideal alternative to conventional swing doors and can meet stringent criteria, including positive air pressure and sterile environments. The door itself constructs a slim, lightweight profile with a smooth, compact surface. This prevents bacteria from getting trapped in the seams or corners between the door and the frame, preventing cross-contamination. The function of the sliding door is to control through a smooth sliding motion, rather than the swing door, the latter is more likely to touch on clothing or spread pollution.
Save energy:
The automated sliding door for cleanroom also feature perimeter seals which protect against air loss as well as dust, dirt, and other particulates. The automatic sliding doors feature invisible perimeter seals while they're open, but they close tight when they detect someone approaching. This saves energy by keeping conditioned air inside the room where it belongs!
Save space and money:
When designing a clean room, it is important to look for the economy in a space-saving design. Recently, a white slider at the far end of the room greatly limited the number of access points.Today, we place them in the middle of a room with multiple lines exiting at the same time, which can save tens of thousands of dollars in project costs.
conclusion:
Whether in a manufacturing facility, a pharmacy, or a hospital inpatient care facility, our sliding door for cleanroomsystems provide the cleaning power you need. Even under negative pressure conditions, these versatile dividers allow people, products, and materials to easily move and enter rooms. At the same time, manual sliding doors are an interesting way to save space as well. They require less space than traditional swing doors, and they also tend to cost less. So if you're looking for a way to save a ton of money, this might be the door type for you.
CONTACT US


Guangzhou Yizhong Aluminum Industry Co., Ltd.
We are always providing our customers with reliable products and considerate services.
We are always providing our customers with reliable products and considerate services.