Double Glass Swing Door – The Perfect Solution for Your Home or Business
What does a double glass swing door mean?
A double glass swing door is composed of glass. Metal strips or a sealant hold the glass used in this door type together. The mirror is then mounted on a track and allowed to move back and forth. This door is widely used in supermarkets and office buildings due to its sleek, modern design. Double glass doors are also exceptionally easy to clean and maintain since there are no nooks for dust and dirt to hide in.double glass swing door.
Double swing glass doors are incredibly durable and sturdy and may be used continuously for many years. A swing glass is your best bet if you want your home to seem elegant and contemporary. Internal swing glass doors, common in industrial designs, are currently enjoying unparalleled appeal in homes. Swinging glass doors design a luxurious modern lifestyle.
Toughened safety glass is used to create swing glass doors and is available in standard and custom sizes to meet your needs. It is produced by ezong as a finished item in ESG or VSG glass with a broad range of patterns that are appropriate for placement on walls or fixed panels of glass. They are also efficient since you can quickly open and close them as necessary.
The effects of a double swinging glass door are:
The swing glass door is more breathable, creates a successful transition between areas, and is easy to maintain due to its frameless design. The amazing and everlasting beauty of glass never gets old. The pivots positioned at the top and bottom of the door, eliminating the requirement for a structure, maintain the significance of a double door. Since double glass doors typically have hinges attached, the door frame must be strong enough to sustain the door's weight.
In hospitals and malls, a double-swinging glass door is hygienic:
Only one benefit of double-swing doors over standard doors is improved cleanliness. Due to its ease of cleaning and lack of crevices for bacteria and viruses to hide in, double swing doors in hospitals are more sanitary. They are strong and durable, which makes them great for high-traffic areas. They are an excellent replacement for hospitals and other healthcare facilities because they allow for more excellent ventilation, which may help to lessen the spread of disease.
Double glass doors are excellent for connecting two rooms in a home or company while preserving a partition option when a private area is needed. Because they require less swinging site than traditional doors, double glass swing door make both chambers look larger. This makes them a more versatile alternative for your spaces. It provides an innovative, aesthetically pleasing option, and they don't take too much attention away from the location in addition to being a fashionable response.
Easier to clean and maintain:
Double swing doors are easier to clean and can offer several benefits over hospitals' traditional swinging doors. They may help the facility look more modern and are easier to maintain clean. They also provide better acoustic properties. They are also more energy-efficient and can aid in halting the spread of infections. They are easier to maintain and keep clean and always appear more modern. They also have a stylish appearance.
Efficiency and aesthetic qualities:
Contrary to what most people think, doors lend beauty to any space. Unique, easy-to-clean, and more airy double swing glass doors are getting harder to find. When no unsightly hardware or tracks protrude from the floor, which is a blight, your area merges into the surroundings instead of standing out, which is beautiful and ageless in its beauty (and safety risk). Other options cannot easily replicate the sense of well-being that frameless glass doors provide. Your life will be transformed into a unique experience because of your objective value.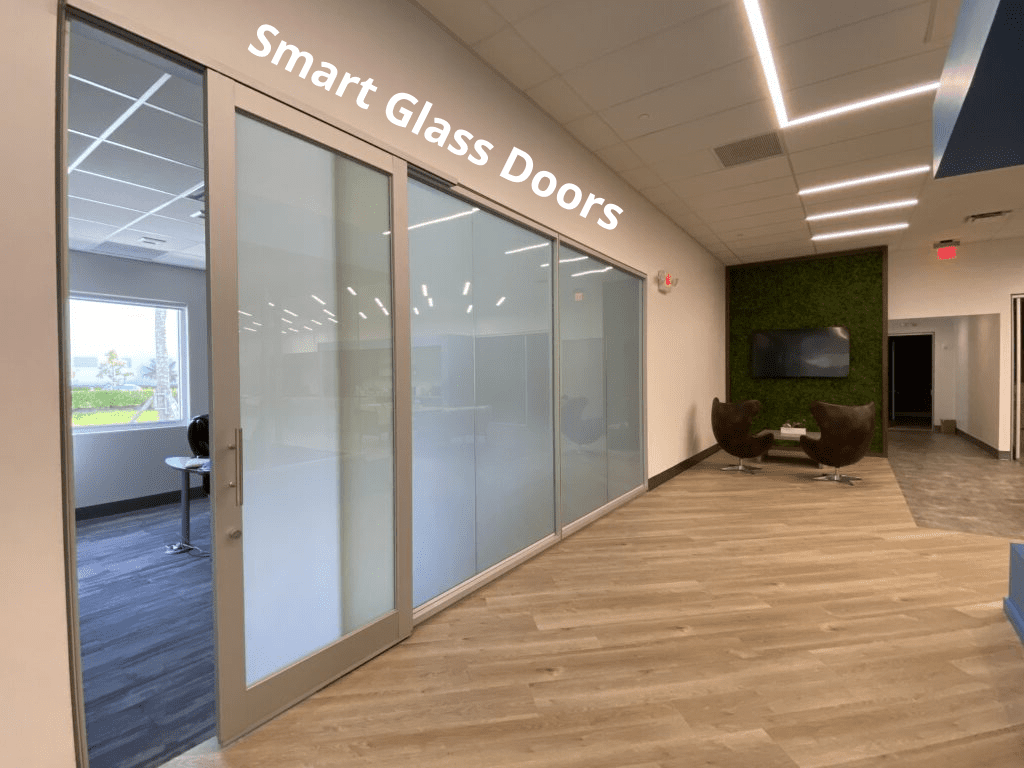 Double swing-door implications in a broad range of fields:
Anywhere there is a location, it can be deployed. Opening often closed evacuation doors may take advantage of people's natural desire to escape immediately.
Glass fractures into small, honeycomb-shaped fragments with sharp angles that are difficult for the human body to harm when struck by an outside force.
A double glass swing door is any door that opens by swinging on hinges attached to the side of the door. Internal doors to closets and other home rooms typically have these on them.
It may be used in various contexts, including grocery stores, shopping centers, hospitals, and schools.
In a business or industrial facility, it is typically utilized as an entry or exit door.
If the door is especially heavy, the mounting's strength and stability can be increased. From an architectural perspective, a swing door operator with attractive door leaves produces a lovely "all glass" impression.
Both single- and double-leaf doors, as well as interior and exterior doors, can be used with this swing door system. Options like free swing and self-closing are available with this flexible solution.
A door of two doors leaves each swing open in the opposing direction, known as a double glass swing door or a double-leaf glass door.
Conclusion:
A door style having two leaves that open in opposition to one another is a double glass swing door, sometimes referred to as a double-leaf door. The majority of high-end residential residences, as well as business and industrial buildings, employ it. The use of double glass swing doors has several benefits in various fields. Professionals create these door systems and the related components at E-ZONG. Our products' flexible production and adaptable design options are available to meet any need. We provide consumers with the best items available. A technical team verifies each door's operation as part of our comprehensive quality control system, which guarantees the product's quality. The company has a complete quality management system, various production, inspection, and debugging equipment, and years of experience manufacturing products internationally.
CONTACT US


Guangzhou Yizhong Aluminum Industry Co., Ltd.
We are always providing our customers with reliable products and considerate services.
We are always providing our customers with reliable products and considerate services.