Fall In Love With Cleanroom Pre-Hung Manual Doors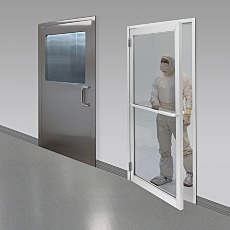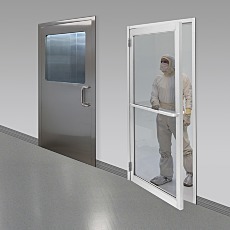 FEATURES of Cleanroom Pre-Hung Manual Doors:
The normal width of door hole(mm):900(Sandwich panel、Single door)、1200 / 1500(Sandwich panel、double door)、900(Handicraft panel、Single door)、1200 / 1500(Handicraft panel、double door)
Normal height of door hole(mm):2100
Opening angle:0°-170°
Type: Sandwich panel(Sandwich panel) / Handicraft panel(Handicraft panel)
Wall thickness(mm):50, 100(Sandwich panel)/50(Handicraft panel)
The type of panel: Tempered glass (silkscreen)
Door leaf thickness(mm): 50
The type of lock: Handle lock, Globular lock, Split lock, Push type panic bar, Touch the bead lock, SUS handle
Access Control: Exposed door closers, interlocking, Electrics wing door machine
Stainless steel door frame of Cleanroom Pre-Hung Manual Doors:
Cleanrooms offer a variety of single - and double-fan pre-hung manual doors. The door frame is the structural and functional pillar of the stainless steel door, made of high-quality stainless steel. No welding points, in line with GMP requirements. The pre-hanging door manufactured according to GMP standard is a kind of complex precision mechanical engineering product in technology. But it is one of the lightest doors on the market today (20% lighter than conventional models) and can significantly reduce shipping costs. One of the best features of this door is that it can be easily customized to your specific needs, with multiple types of glass options. Examples include insulated glass panels, tempered glass, or laminated glass sealed with an emergency welding system. Our products have undergone rigorous testing and inspection to ensure that they meet the highest standards of quality.
High air tightness and sterilization function:
The door is installed with a high-quality sealing gasket, clean room prefabricated door, and double friction door mold, the door can achieve high air tightness and good waterproof function. It has good air tightness. At the same time, it has the advantages of impact resistance, paint resistance, antifouling, and so on. After spraying a layer of scratch-resistant insulating paint above 5μm, we will apply silicone or plastic oil to the contact area. In order to achieve the purpose of asepsis and sterilization.
High temperature resistance, various sizes:
Cleanroom Pre-Hung Manual Doors We are offering custom built pre-hung cleanroom doors, customized for sanitary and pharmaceutical applications. Doors are sprayed with high temperature resistant electrostatic coating, and the service temperature can reach 150℃.We have a great variety of standard sizes (1000mm x 2000mm, 800mm x 1600mm) in 2ft increments, but we can adjust to any size.
Multipoint split lock of Cleanroom Pre-Hung Manual Doors:
When you want to open a door, either inside or outside, there is always a risk that the lock will get stuck in the wrong place. This can be a major problem that even a trip to the hardware store won't solve. Some doors are stuck and won't open at all. Fortunately, with cleanroom pre-hanging manual doors, you don't have to worry about this. That's because the lock body uses a multipoint split lock, allowing the door to open from the inside out. Plus, when it comes time to change the locks, you'll find it's pretty easy, too.
Clear plexiglass glass window:
Glass doors give an impression of clarity and simplicity, open clearly and allow the glass door appear in all circumstances. In addition, it also equipped with a single control lock function. Beautiful door design. In order to ensure the user's convenience to two or morethings, this product has passed the certification of the eu environmental standards EN1431 test.
Physical properties and efficacy in Cleanroom Pre-Hung Manual Doors :
The cleanroom doors are attached to the frame directly on the flat glass door. Essential for the growth of the innovation industry and green environmental protection. The clean room is not only conducive to the purified metal parts, but also a necessary assistant in technology research and the development of new products. The food-grade coating on the surface is safe and harmless. Anti-fold special board, open door with elbow, anti-collision, anti-pinch hand. Adopt a split lock, convenient and safe. Carefully clean them regularly, and keep a fresh look.
The corner of the whole door adopts a circular arc design:
Clean room pre-suspension manual door is suitable for clean rooms with strict requirements for dustproof, small particles and clean air. Cleanroom doors are standard frame sizes and frame angles are bent to better withstand collisions. Surface electrostatic spray paint is not subject to chemical corrosion, not easy to scratch. For safety reasons, all hinges have a patented triangular hinge design that is always resistant to clockwise opening to help prevent the door from flipping. Its surface enhances the cleanroom environment and its cleanliness. It's easy to use no matter how long it's been in use. This environment-friendly material does not produce any harmful substances to the environment.
Application places:
In this era, the workshop cleanliness and order requirements are increasingly strict. Many factories require doors to be clean, sealed, and easy to open and close. To keep dust from flying around, some workshops also need doors that are easy to clean and disinfect. No matter which industry you are in, clean room pre-hanging manual door has been applied in many fields: medicine field, food industry, electronics industry, aviation. Painting workshop, etc
Automatic rotation, convenient and labor-saving:
When it comes to cleanroom pre-hanging manual doors, it's all about the rotating arm on this leaf. As soon as you close the door, the handle-like arm will automatically rotate. Technically known as a swing door, this entry door has an actuator. When you automatically close the door, they retract the push pad. This allows for fully hands-free operation, resulting in less effort and a more convenient experience. And keep contaminants out of the clean room. Keeping contaminants out means that your room is cleaner and therefore safer for you and the people who work in it.
Cost-effective solution of Cleanroom Pre-Hung Manual Doors :
Manual cleanroom doors are the most cost-effective and effective way to provide a physical barrier to protect the cleanroom from the external environment. This helps prevent contamination from entering your clean room, which is especially important if you need sterile protection. We can customize the pre-hung door assembly to your specific opening size and make it easy to enter without installation. In addition, Yizhong Aluminum Industry offers a variety of accessories for your cleanroom pre-hanging doors to suit any application or budget.
conclusion:
Although the most commonly installed door type for clean rooms is the sliding door, manufacturers have many reasons to choose cleanroom doors cleanroom pre-hung manual doors. Customers can also save money and time using our products since these doors don't require a lot of extra tools and installation features that other types of doors do. Cleanroom pre-hung manual doors simply fit into 14- and 16-foot standard frames. Although clean rooms have been around for decades, they're not going out of fashion anytime soon.
CONTACT US


Guangzhou Yizhong Aluminum Industry Co., Ltd.
We are always providing our customers with reliable products and considerate services.
We are always providing our customers with reliable products and considerate services.