A guide to cleanroom pass through doors
What is meant by cleanroom pass through doors?
Personnel and goods moving between various cleanroom zones may do so safely and without coming into contact with contaminants, thanks to cleanroom pass through doors. They are a crucial part of the production process because they let workers enter the cleanroom with goods, supplies, and information while protecting the room's integrity and preventing the introduction of pollutants.
These doors are used in cleanroom settings to protect the environment's integrity by limiting the movement of supplies, people, and machinery. Specialized doors used to preserve the cleanliness of a controlled environment, such as a cleanroom or laboratory, are known as cleanroom pass through doors, airlocks, or transfer chambers.
The compartments of these doors normally consist of two or more and are divided by a set of doors. The entrance is through one compartment, while the exit is through the opposite compartment. When individuals or equipment enters or exits the controlled environment, the doors are made to stop pollutants from doing so.
Air filtration systems, including HEPA filters, are frequently employed to preserve the air's purity in the compartments.
The significance of cleanroom pass through doors: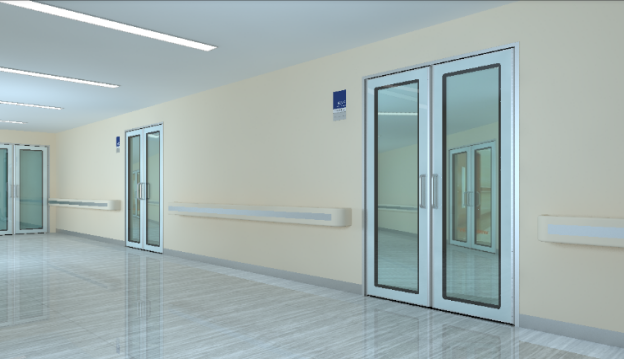 Cleanroom doors are crucial to preserving their integrity ina regulated environment, such as a cleanroom or laboratory. To guarantee that the goods produced or the research being done is not jeopardized, these surroundings must be kept as free from pollutants as possible.
Particles, bacteria, and other microorganisms can all be considered contaminants that have the potential to impact the results of tests or the quality of goods. Maintaining the necessary level of cleanliness is possible by using cleanroom pass through doors to ensure that these pollutants cannot enter or leave the carefully monitored environment.
Cleanroom pass-through doors are also helping to preserve the movement of people and things into and out of the carefully regulated environment.
This can be crucial for efficiency and safety. To avoid contamination, they also enable the monitoring of who enters the room and the management of the flow of people and things in and out. They also prohibit unauthorized entrance and allow for the tracking of who enters the room.
In conclusion, cleanroom pass-through doors, a necessary part of many cleanrooms and labs, is crucial in preserving the cleanliness and integrity of controlled environments.
Observing the relevance of cleanroom pass through doors in classrooms requires the following knowledge:
Defending against contamination risk and pressure loss:
These pass-through doors have a door system that guards against airborne contaminants and pressure loss inside the cleanroom. Furthermore, it offers the fastest method of material transportation without the requirement for time-consuming gowning processes. These pass-through doors are intended to be a low-cost method of reducing contamination in confined spaces.
Pass-through is practical and affordable to fulfill industry safety regulations and safeguard the cleanroom environment. In addition to preventing outside pollutants from entering the cleanroom, they reduce the number of employees in the room at any given time, limit the number of times the room is entered, and limit the number of times it is left. Both aspects provide a further reduction in the danger of contamination.
Easy to maintain and clean:
By including a pass-through, cleanroom employees will no longer need to get dressed and shower before inserting or removing items. As a result, there will be less waiting, which may increase production. Pass-Through is durable and easy to clean and maintain. Additionally, they provide a high level of customization by using various materials, sizes, and designs to meet different cleanroom needs.
Single clean room doors will let you enter more rapidly than traditional manual doors, saving you money. This method of controlling cleanroom entry and exits can be effective. These cleanroom doors handle these turbulence-causing pressure swings and strong air currents. These doors increase output, reduce unused space, and make daily duties for employees simpler.
The leading manufacturers of cleanroom pass-through doors is E-ZONG:
They are wear-resistant, bacterial- and moisture-proof, with a smooth surface and transition design. They are also strong, resilient, and collision-resistant, with steady performance and little noise. The doors are made of materials that do not off-gas or release particles into the air, preventing pollutants from entering the cleanroom.
Cleanroom doors are essential for any controlled environment to function. They are a physical barrier between the cleanroom and the outside world, keeping pollutants from entering the area and particles that could taint goods from departing.
Pharmaceutical manufacturing, biological research, and semiconductor manufacturing are just a few industries that employ cleanrooms. The best cleanroom door manufacturers are E-ZONG. Our area of expertise is designing industrial frames, semi-finished items, and completed goods utilizing aluminum profiles.
Our firm manufactures various products, such as automated medical doors, cleanroom doors, and aluminum profiles. We can better manage quality and pricing. Construct the item in your factory.
The top manufacturer of cleanroom doors is E-ZONG, whose goods are widely used in various sectors, including clean rooms, medical and health, biopharmaceutical, food and beverage, cosmetics, equipment, and electronics.
Conclusion:
With our selection of cleanroom pass through doors alternatives, E-ZONG offers clients the most affordable and effective way to transfer goods across internal facility obstacles. These pass-through doors contribute to preserving the cleanliness of the area and the items within by preventing pollutants from entering the cleanroom. We have clients all around the world and serve the biomedical industry. Our clients are certain that the requisite distance between their clean rooms and other interior spaces and packing areas will be maintained by our high-end pass-through doors. Choose the ideal pass-through doors for your cleanroom requirements with the assistance of our specialists. As an innovative and respected producer and supplier of pass-through doors and medical supplies, we have a strong reputation. You can rely on us to provide the best goods possible for your hospital or company. Visit our website for additional details.
CONTACT US


Guangzhou Yizhong Aluminum Industry Co., Ltd.
We are always providing our customers with reliable products and considerate services.
We are always providing our customers with reliable products and considerate services.