Clean room magnetic door seal System for Clean Room Environments
How can You understand a magnetic door in a clean room?
To reduce the presence of pollutants, including dust, microbes, germs, and other particles, a clean room is a regulated environment. Several steps are taken, including the installation of special doors that reduce the transmission of pollutants to preserve the cleanliness of a clean room. Because they create a tight seal that aids in preventing the transmission of pollutants, magnetic doors are frequently employed in clean rooms. You can carry out the following actions to determine if a door is a magnetic door:
Check the frame or the door for a metal plate or strip. This metal plate or strip, which holds the door in place, is often composed of steel or another magnetic substance.
Hold a tiny magnet to the metal strip or plate. It is likely that the door is a magnetic door if the magnet is drawn to the metal.
To find out if the door is magnetic or not, you may also ask the installer or manufacturer of the door.
Utilizing Magnetic Doors to Keep Your Clean Room Secure
A clean room is a highly regulated environment created to reduce the quantity of dust, airborne particles, and other pollutants that might obstruct the production or research process. Magnetic doors are frequently used to keep clean rooms safe and keep out harmful germs. Here are a few ways that magnetic doors may contribute to the safety of your cleanroom: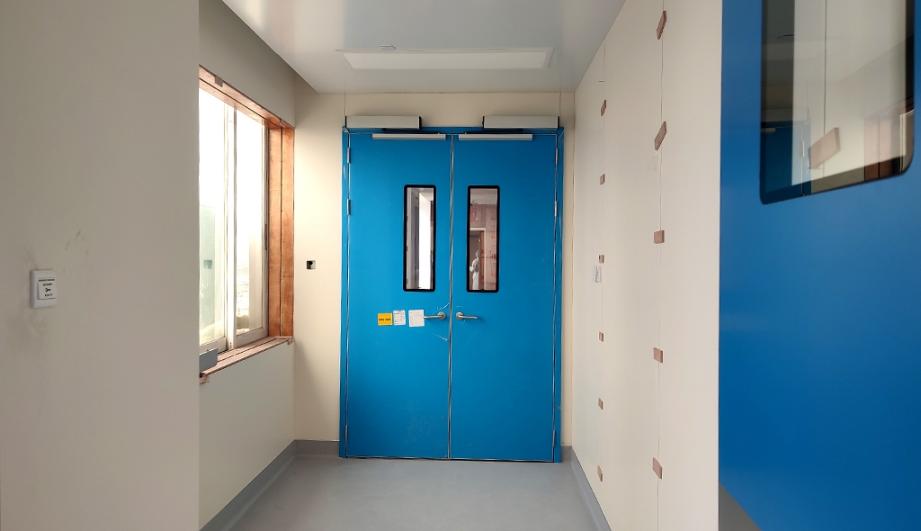 Magnetic doors provide a tight seal:
Magnetic doors use a magnetic strip to establish a tight barrier that keeps pollutants out of the clean room. Magnetic doors offer a tight closure. Even the smallest particles can be kept out because of the seal's strength.
Clean room magnetic door is simple to use and opens and close with minimal effort. They are, therefore, perfect for clean spaces where there is a need to limit air circulation.
Contamination-prevention:
Magnetic doors are made to keep contaminants out of clean rooms. The clean room is in excellent shape since it is very simple to maintain and clean.
Security is provided by the ability of magnetic doors to be locked, adding additional protection for the clean room. By doing so, the room is kept safe and helps to prevent unauthorized access.
Magnetic doors are adaptable, allowing them to fit any clean room's size or shape. They may be used for any clean room application because of their adaptability.
Doors from E-ZONG Meet Appropriate Clean Room Magnetic Door Specifications:
E-ZONG has been around for more than 26 years. Particularly, it develops, produces, and sells swing doors, clean room doors, automated medical doors, clean room profiles made of aluminium, and other products. Due to their professional experience in creating a clean room magnetic door, they strictly adhere to the most appropriate standards while creating. We will provide the finest recommendation considering the customer's needs. Additionally, you may ask them for design drawings. You may also work with E-ZONG by sending them your design sketches.
A Magnetic Door-Seal System for Clean Room Environments:
Maintaining clean room conditions may benefit from the use of a magnetic door-seal system. The entrance, creation, and retention of airborne particles—which can endanger delicate industrial processes and products—are minimized in clean rooms. A magnetic door-seal system uses strong magnets to establish an airtight seal between the door and the frame. This seal stops pollutants from leaving the clean chamber and outside air from entering. The system may be adjusted to meet the exact measurements of the door and is simple to install without the need for any additional tools or equipment. One benefit of a magnetic door-seal system is that it offers a constant and dependable seal, which can be significant in applications requiring high sensitivity. The system is also less prone to wear and tear and needs less maintenance because it doesn't rely on mechanical or moving elements.
Performance of Magnetic Doors for Clean Room Applications:
A clean room magnetic door is frequently used in clean room applications to maintain the environment's purity and integrity. A magnetic door's effectiveness in a clean room application can be assessed using a number of criteria, such as:
In order to keep the positive pressure in the clean room, magnetic doors must stop air leakage. For the needed pressure differential to be maintained, the door's air leakage rate must be minimal.
Magnetic doors should keep dust and other contaminants out of the clean room. The seal on the door should be strong enough to keep particles out.
Magnetic doors should be made to avoid electrostatic discharge (ESD) and lessen the possibility of causing harm to delicate items or equipment.
Magnetic doors must be strong enough to withstand repeated use and function properly.
It is crucial to select high-quality doors that are made expressly for use in clean rooms and install and maintain them in accordance with industry standards to ensure the best functioning of magnetic doors in clean room applications. To guarantee their long-term functioning and to preserve the integrity of the clean room environment, magnetic doors must undergo routine inspections, cleanings, and maintenance.
Conclusion:
Clean room magnetic door systems are frequently employed in the semiconductor industry and other sectors to maintain a specific temperature and humidity level within the cleanroom environment. E-ZONG has been in operation for over 26 years. Its main business is creating, producing, and selling clean room goods, such as swing doors for medical institutions and clean room doors. We completely agree with their professional manufacturing industry knowledge and the best clean room door standards. You may ask them for design drawings as well. Additionally, you may work with E-ZONG by sending them your design layouts.
CONTACT US


Guangzhou Yizhong Aluminum Industry Co., Ltd.
We are always providing our customers with reliable products and considerate services.
We are always providing our customers with reliable products and considerate services.