E-ZONG: A World famous Ceiling Diffuser Grills Manufacturer
A quick overview of ceiling diffuser grills:
A ceiling diffuser is a specific vent cover installed above the ceiling vents. Its purpose is to deliver conditioned air to the space. After going through the heating and cooling system, the air is pushed via the ductwork until it reaches the ceiling diffuser. Air diffusers in a circle and to hide pipe gaps, diffusers with steps are employed. Our products are built to provide optimal airflow, and their straightforward style will go well with your home's interior decor. Your room receives airflow via a duct diffuser. The airflow is deflected 360 degrees by the pressure relief diffusion ring.
The diffuser is a vented cover that allows the conditioned air to enter the space. Diffusers on the floor, the wall, and the ceiling are typical in commercial and residential structures. Supply air ventilation, return air ventilation, and exhaust ventilation are the three different forms of ventilation. Usually composed of metal or plastic, ceiling diffusers are built to last and are simple to maintain. Depending on the space's particular requirements, they may be changed to create various airflow patterns, including horizontal, vertical, and diagonal.
A ceiling diffuser accomplishes the distribution of conditioned air in a structure or other enclosed space. It is frequently put in the ceiling of a room or other area and comprises several apertures or outlets via which air is released into the space. Ceiling diffusers are frequently used in conjunction with an air handling unit (AHU) or another mechanical ventilation system to provide a cosy and stable interior climate. To meet the unique demands and conditions of the space, they are offered in a range of sizes, forms, and designs.
There are permanent and removable grille core assemblies available. Grilles can be mounted on a side wall, soffit, or ledge. Offices, stores, hotels, gyms, and most commercial or industrial buildings are typical installations. Must seal off any exposed ducting to direct airflow. To assist in guiding airflow, these grills may be placed on the floor, wall, or ceiling to conceal any exposed ducting. These plastic vent covers are scratch-resistant since they are made of high-density polyvinyl chloride.
E-ZONG has produced ceiling diffuser grills for almost 30 years:
E-ZONG is a ceiling diffuser grills manufacturer that has worked hard for over 20 years to produce top-notch consumer goods, growing from a small facility to 30,000 square metres. How did they accomplish it, then? To increase productivity and product quality, they can take the following actions:
Automated production with high levels of precision:
The E-ZONG ceiling diffuser Grills Company has invested heavily in CNC processing equipment. It features a complete set of CNC processing equipment and can manufacture various machining components to customer specifications. The accuracy rate is 0.02 mm, and the efficiency is good.
More scientific process control:
To ensure the excellent quality of its products, the E-ZONG ceiling diffuser grills supplier has created strict quality standards and a control system. The company uses cutting-edge testing techniques and instruments, such as X-ray scanning, ultrasonic testing, and other non-destructive testing techniques, to ensure product quality before delivery.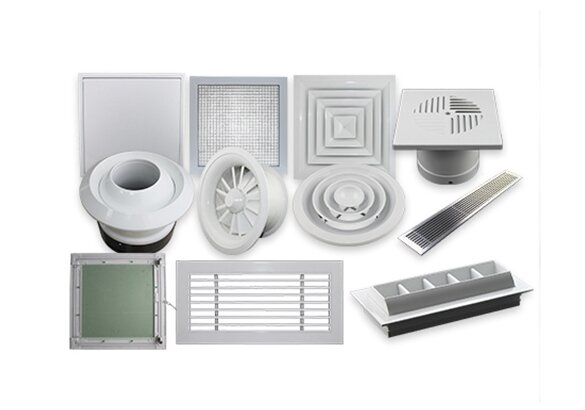 Setting up strict quality control:
E-ZONG, a provider of ceiling diffuser grills certified to ISO9001:2008 standards, has established a thorough inspection system. Skilled inspectors and experts thoroughly check each stage of the production process, from material supply to production, before each batch leaves the plant. Every item that leaves our facility must also undergo a rigorous inspection by other agencies.
Excellent Customer Service:
E-ZONG has a team of seasoned professionals dedicated to providing excellent customer service. We work closely with our clients to fully understand their needs and provide solutions to meet their goals.
Certifications and Standards Compliance:
To ensure the highest levels of purity and cleanliness, E-ZONG is the ceiling diffuser grills manufacturer that conforms to several certifications and regulations, including ISO 14644 and Federal Standard 209E. E-ZONG is a reliable and well-known manufacturer of ceiling diffuser grills that can meet all your special requirements. Because of our commitment to quality, customization, reasonable price, rapid turnaround times, excellent customer service, and compliance with certifications and standards, we are a top choice for a manufacturer of ceiling diffuser grills for your project.
Using ceiling diffuser grills made by E-ZONG Company has significant capabilities:
The pricing that E-ZONG can offer is unmatched by any other company. We are committed to providing exceptional value for your money; therefore, we will look into better options and let you know about them.
Only premium raw materials produce the whole ceiling diffuser grills series. Ours will provide you with the most value for your money when buying building supplies, even though you have a lot of alternatives.
With our huge selection of ceiling diffuser grills, you can be sure that we have the best item for your needs. Our ceiling diffuser grill products may last a lifetime or longer because they are durable and sturdy.
When you shop from us, you won't have to worry about running out of building supplies since we always have more than enough. Open-hinged air return grille PVC operates by controlling the dispersion of return air, changing the direction and strength of airflow, and preventing the air filter from readily being clogged or damaged.
Conclusion:
E-ZONG, the manufacturer of ceiling diffuser grills, solely uses top-notch raw materials to produce ceiling diffuser grills. A well-known ceiling diffuser grills manufacturer is E-ZONG. We pledge to provide our customers with the best goods and services. As we have been in this field for over 20 years, we are authorities. Overall, aluminium is a suitable material option for ceiling diffusers for air conditioners because of its strength, lightweight, resistance to corrosion, strong conductive qualities, and aesthetic appeal. If you're searching for a high-quality, long-lasting, and fashionable diffuser for your air conditioning system, choose E-ZONG air conditioner ceiling diffusers.
CONTACT US


Guangzhou Yizhong Aluminum Industry Co., Ltd.
We are always providing our customers with reliable products and considerate services.
We are always providing our customers with reliable products and considerate services.